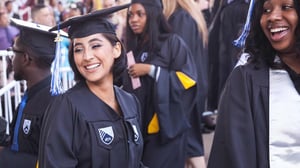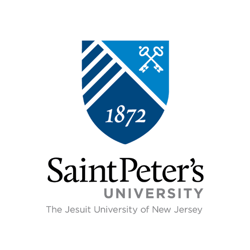 Saint Peter's University
Campus Locations:
2641 John F. Kennedy Blvd, Jersey City, NJ 07306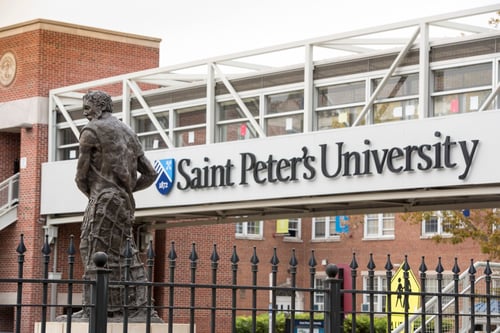 Saint Peter's University Website
Free School Consultation with CPTDog
Discover Saint Peter's
School Locations:
Jersey City, New Jersey
School Accreditations:
Middle States Commission on Higher Education Accreditation (MSCHE), Commission on Collegiate Nursing Education Accreditation (CCNE), and International Accreditation Council for Business Education (IACBE).
US News ranked SPU at 11th for "Best Value" in the regional university north.
Day-1 CPT Programs:
MS Data Science (STEM), MS Business Analytics (STEM)
Estimated Tuition:
$26,000 - $29,000
Ave annual tuition $17,365
———————
Overall Score: 🌟🌟🌟🌟🌟
Cost Effectiveness: 🌟🌟🌟🌟🌟
Academic Pressure: 🌟
Commute Score: 🌟🌟🌟🌟🌟
| About the School
Saint Peter's University, is an independent liberal arts college that was founded in 1872, proud to be one of the 28 colleges and universities sponsored by the Society of Jesus.
For over 120 years, SPU has been providing quality education to Hudson County, Bergen County, Essex County, and surrounding communities. SPU strives to provide students with the best educational resources possible.
Saint Peter's has a diverse student body of 3,200 students, with 74 percent undergraduates and 26 percent master's or doctoral students as of 2021. In 2021, SPU was ranked 11th among the most valuable universities in the North region by US News and World Report.
At Saint Peter's, there are over 50 undergraduate programs, 13 graduate programs, and 118 full-time professors with a student-to-professor ratio is 13:1, ensuring that students receive personalized attention from their instructors. The average class size is 22 students, allowing for a more intimate and interactive learning experience.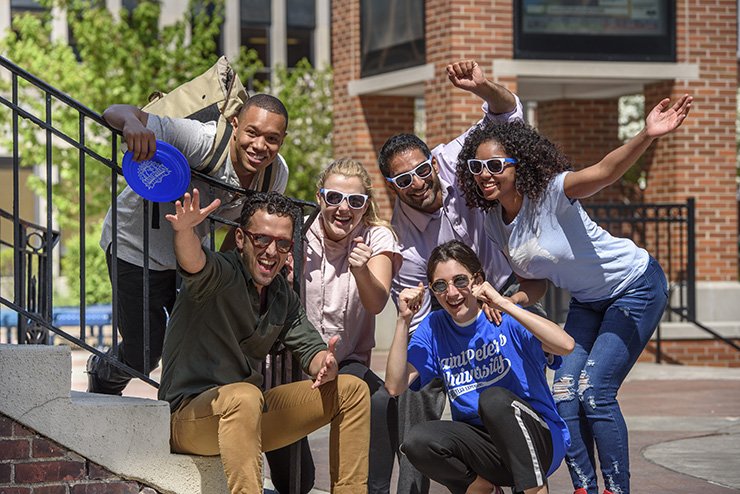 | Accreditations
Saint Peter's University is accredited by:
Middle States Commission on Higher Education Accreditation (MSCHE)(MSCHE is an institutional accrediting agency recognized by the U.S. Secretary of Education and the Council for Higher Education Accreditation )

Commission on Collegiate Nursing Education Accreditation (CCNE)

International Accreditation Council for Business Education (IACBE) (The Guarini School of Business at Saint Peter's University has received specialized accreditation for its business programs through the International Accreditation Council for Business Education)

| School Locations
Saint Peter's University is located on 30 acres in Jersey City, New Jersey, just a 12-minute train ride from Manhattan, New York City.
The newly constructed Victor R. Yanitelli, S.J. Athletic Complex includes an Olympic-size swimming pool, basketball, racquetball, and tennis courts, weight room, sauna, and more. The Mac Mahon Student Center is located on the Jersey City campus.
The Student Center includes a café, dining facilities, a fitness center, a large game room, and study rooms. The Student Center is not only a great place to complete group work or meet with classmates but also offers a breathtaking view of downtown New York City.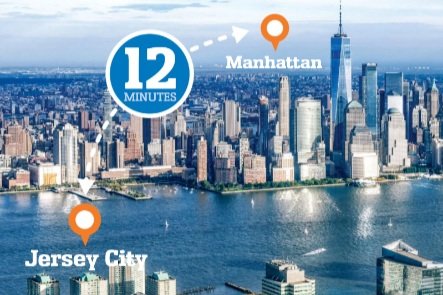 Jersey City Campus
2641 John F. Kennedy Blvd, Jersey City, NJ 07306
| 2. Day-1 CPT Policies
Day-1 CPT is available in MS Data Science, and MS Business Analytics majors.
The CPT internship is a required component for completing the program.
The school also explicitly states that F-1 international students can be approved for CPT work permits on the first day of school.
Click here to check the school's website's Data Science Graduate Internship section. The program requires students to begin full-time CPT on the first day of work.

CPT Requirement on SPU's official website
| Documents required for CPT application:
A completed and signed Cooperative Agreement from the employer

An official signed offer letter from the employer to the student on company letterhead

A detailed job description on company letterhead listing the job title and responsibilities for the CPT position
Click here for a detailed explanation of the school's CPT policy.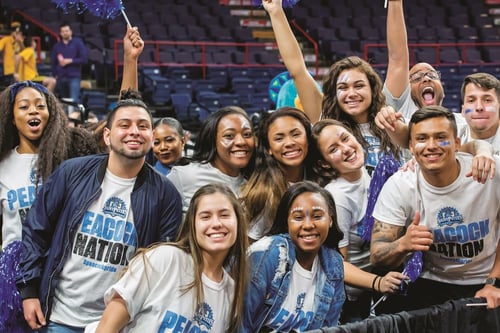 | 3. Day-1 CPT Programs
Saint Peter's University graduate programs that offer full-time CPT:
MS Data Science, MS Business Analytics.
The MS Data Science requires 2 courses per semester for 36 credits and it's normally a 2-year program. It can be completed in 20 months.

The MS Business Analytics program requires 2 courses per semester for 30 credits and can be completed in 15 to 18 months.
The school allows students to obtain CPT work authorization on the first day of school and will send out a CPT renewal notification at the end of each semester. You can use CPT for 365 days uninterrupted.
Master of Science in Data Science (STEM)
The Master of Science in Data Science program requires the completion of 36 credits.
The applicant must hold an undergraduate degree in science, mathematics, computer science, or engineering and have an interest in pursuing or working in a high-demand analytics field such as technology, pharmaceuticals, research, government, public health, entrepreneurship, finance, or business. Real-world business examples are incorporated into the course to equip graduates with the skills to use predictive models in decision-making.
The course offers in-depth training in data science, including data mining, machine learning, visualization techniques, predictive modeling, and statistics. Students will also gain hands-on experience with statistical programming languages and big data tools through coursework.
Below is a sample schedule for the fall semester: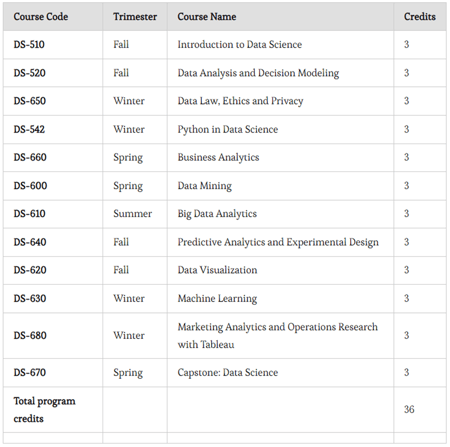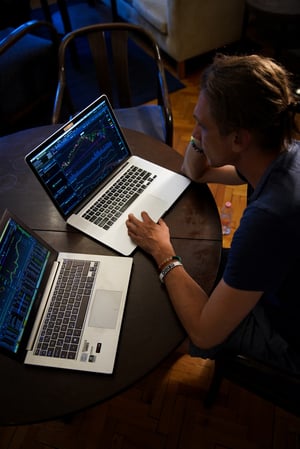 * The sequence of course offerings may differ from the above table for students enrolled in different semesters.
Students who choose the Data Science program can participate in Data Science Institute (DSI) research projects: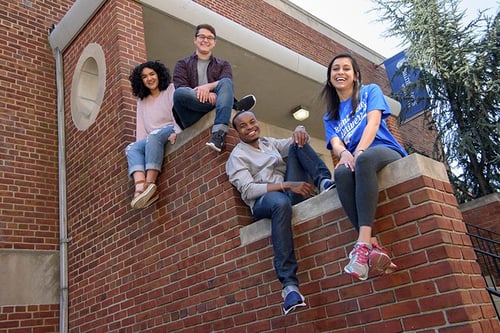 DSI Research Projects
Commercial and Insurance Fraud Detection
The Data Science Institute works with a leading analytics firm to analyze large volumes of insurance transaction records and news articles to identify underwriters involved in insurance fraud and their likely locations.

Students use machine learning and natural language processing to perform efficient text mining tasks that generate information about crime and fraud and help authorities make predictions.
Big Data and Social Media
Big data associated with social media and blog posts provide unprecedented opportunities to understand the public political sentiment, consumer preferences, and user sentiment.

In a past project, students analyzed keywords on Twitter pages to uncover critical opinions and perform sentiment analysis of Internet marketing campaigns.
Data Science and Financial Markets
Real-time visualization and analysis of stock price or market data are essential for portfolio optimization.

In this project, students use Tableau software and Python scripts to analyze market prices at the opening and closing of the New York Stock Exchange.
Real-Time Surveillance and Crime Analysis
Big data and crime are emerging topics.

Students and faculty members use statistical learning methods to analyze and predict crime data in U.S. cities while also working with other organizations and agencies in the industry to develop predictive methods for urban and regional crime prevention.
Master of Science in Business Analytics (STEM)
The Master of Science in Business Analytics program is tailored to meet the needs of working managers and professionals seeking to enhance their data analytics skills for informed decision-making and discovering business insights to meet market needs. The program is offered through the Data Science Institute (DSI), and covers strategic management, finance, advanced data analytics, and data visualization in its curriculum.
To complete the program, 30-course credits are required, including the following courses: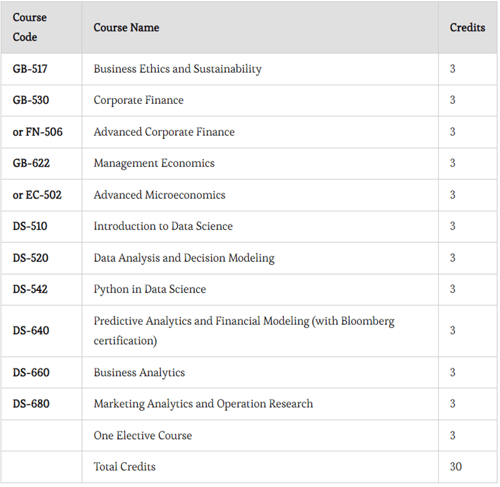 | 4. Onsite Frequency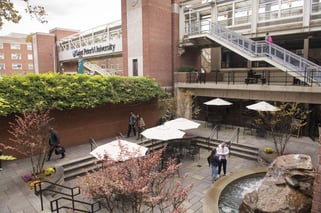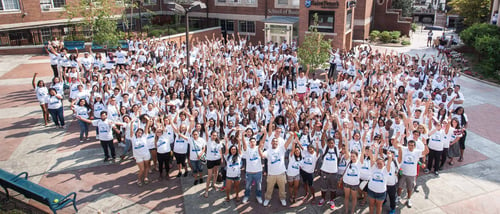 Saint Peter's University's onsite attendance requirement is 3-day/1-weekend per semester (Friday through Sunday).

The rest of the course can be completed online.
The school's attendance policy clearly states that missing one weekend of classes will result in missing the entire semester, and the school will immediately terminate the student's F-1 status.
| 5. Tuition and Scholarship
| Day 1 CPT Programs | Per Credit | Total Credits | Tuition Total (CPT not included) | Program Length |
| --- | --- | --- | --- | --- |
| M.S. in Business Analytics | $867 | 30 | $26,000 | 18 months |
| M.S. in Data Science | $806 | 36 | $29,000 | 20 months |
Non-Tuition Cost:
No Application Fee

Graduate Student Fee (charged per term or trimester) NEW $50

Microsoft Software Package Fee (Graduate MBA Business Analytics, M.S. Business Analytics, M.S. Data Science) $100

Orientation Fee Graduate Students (ALL GRAD NEW; Domestic and INT'L; one time ) $150
| Scholarships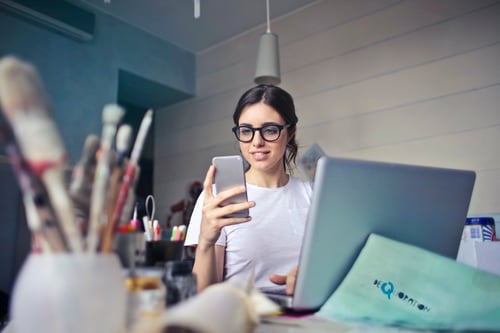 🔥Special Scholarship Only for Students Who Apply via CPTDog:
Apply through CPTDog / GoElite and get a $100 Amazon gift card (when you enroll)
Easily apply

Special offer

No GPA, document requirement

Students are still eligible to apply for other scholarships
* GoElite MUST be mentioned in the student's original application form, or a FERPA form for GoElite must be submitted before acceptance is issued in order to qualify for the scholarship and receive referral credit.
| 6. Academic Calendar
| Terms (2023-2024) | Term Start | Application Deadline | Onsite Dates |
| --- | --- | --- | --- |
| 2023 Summer | 5/22/2023 | 4/1/2023 | July 14, 15, 16 |
| 2023 Fall | 9/5/2023 | 7/1/2023 | Sep 29, 30 and Oct 1 |
| 2023 Winter | 11/27/2023 | 10/1/2023 | TBD |
| 2024 Spring | 2/26/2024 | 1/1/2024 | TBD |
| 2024 Summer | 5/20/2024 | 4/1/2024 | TBD |
The school has a trimester system consisting of three 11-week semesters per year. Main courses are scheduled during the spring, fall, and winter semesters, with a limited number of courses offered during the summer.
The hybrid curriculum requires two courses per semester (3 credits each, totaling 6 credits), one online and one onsite, meeting USCIS requirements for F-1 international students.
Prospective students may apply for admission during the start time of each semester, excluding winter.
*The application deadline is fairly early (up to 2 months before the start date), please apply in advance if interested!
*If you miss the application deadline, don't worry, contact us, CPTDog could work with School Admissions to expedite admission decisions as soon as 3 days.
| 7. Application Guide
Contact us to submit an online application form

Upload personal application information, including
I-20

Passport

Visa

Resume

Statement of Purpose

2 Recommendation Letters
Recommendation letters should focus on the following areas:
How long have you known the applicant, and in what capacity?

What do you consider the applicant's strengths?

In which areas could the applicant exhibit additional growth or improvement?

How would you describe the applicant's interpersonal skills?

Official Transcript (upload an unofficial transcript when applying, submit an official transcript after acceptance)

Certificate of deposit (bank statement with a balance of more than $27,800 within the last three months or equivalent in other currency is acceptable.)

Note: If you have a master's degree and work experience in the U.S., you do not need to submit a personal statement or letter of recommendation.
After you receive your acceptance letter, You should confirm the SEVIS transfer time with the International Student Office of your original school and fill out the SEVIS transfer form to transfer your SEVIS from your original school to Saint Peter's University.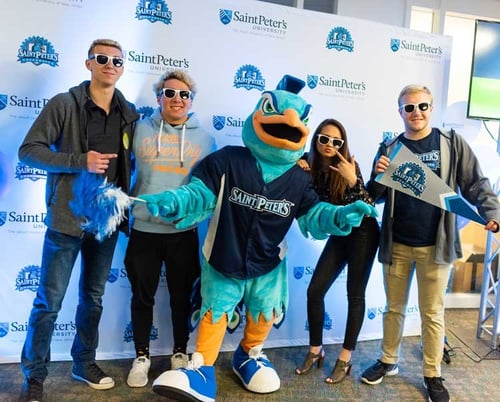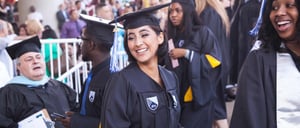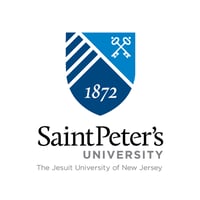 Apply for Saint Peter's University Today!
You will get an SPU Graduate Admission Office's step-by-step application guide.
Apply now and have your admission result as soon as One Week!