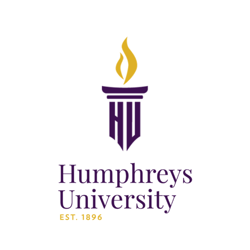 Humphreys University
Campus Locations:
6650 Inglewood Avenue, Stockton, CA 95207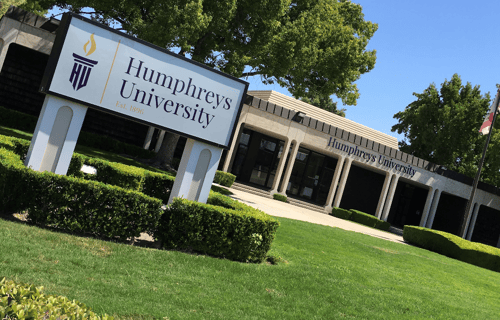 Free School Consultation with CPTDog
Humphreys University Virtual Tour
School Locations:
Stockton, CA
School Accreditations:
WASC Senior College and University Commission
Ranked 85 by US News, Regional Universities West List
Day-1 CPT Programs:
MBA - IT
Estimated Tuition:
$21,000
———————
Overall Score: ⭐️⭐️⭐️⭐️
Cost Effectiveness: ⭐️⭐️⭐️⭐️⭐️
Academic Pressure: ⭐️
Commute Score: ⭐️⭐️⭐️⭐️⭐️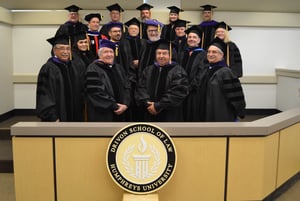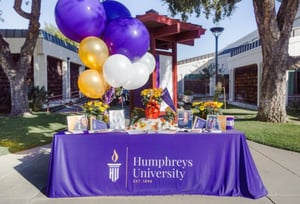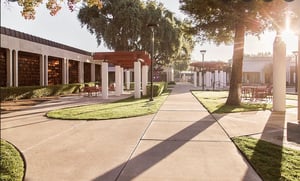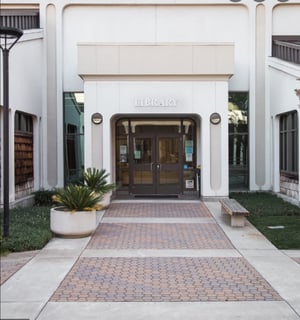 | About the School
Humphreys University, formerly known as Humphreys College, is a prestigious private, not-for-profit university. It has two campuses in California, USA - Modesto and Stockton.
Since its founding in 1896, Humphreys University has been a major role in California's higher education system by providing students with effective instruction and an excellent environment for growth, and by producing a large number of businesses, law, and education professionals.
Humphreys University offers degrees and resources to help students launch their career paths and reach higher career goals.
Humphreys University currently offers associate, bachelor's, master's, and J.D. degrees to provide quality education to students from a variety of backgrounds.
Humphreys University operates on a quarter system, with the year divided into four semesters.
| Accreditations
Humphreys University is accredited by:
WASC Senior College and University Commission
* Standford University and USC are also accredited by WASC
| Rankings:

| School Locations
Stockton, the capital city of San Joaquin County, California, is rich in humanity and diverse in its population, yet quaint yet vibrant.
Located less than 90 minutes from San Francisco, San Jose, and Sacramento, it is easily accessible through Stockton Metropolitan Airport (SCK)
** Day-1 CPT Program is only offered at Stockton Campus at the moment
Modesto is known as the artistic and cultural center of the Central Valley, with world-class attractions and outstanding arts and entertainment. It is easily accessible, with travel distances to San Francisco, San Jose, and Sacramento all around 80 miles. Humphreys University's Modesto campus offers associate, bachelor's, and master's degrees.
Stockton Campus
6650 Inglewood Avenue, Stockton, CA 95207
| Day-1 CPT Policies
Humphreys University's Master of Business Administration (MBA-IT) program supports Day-1 CPT:
This program aims to facilitate the professional growth of working individuals by enhancing their business acumen and technological proficiency.

It caters specifically to international students and utilizes a hybrid model, combining online and onsite learning over the course of a weekend.

By dedicating just 1 weekend (2 days) per semester to onsite classes and utilizing online resources for the remainder of the coursework, students can effectively balance their studies with their work commitments.

Humphreys University's MBA-IT full-time program is fully compliant with all USCIS and SEVIS regulations, ensuring that international students can confidently pursue their academic and professional goals.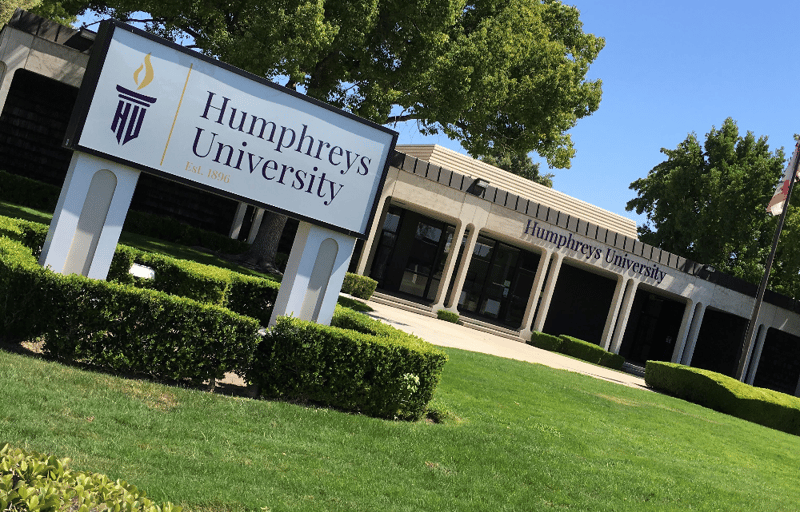 | Day-1 CPT Program
The MBA-IT program is
a full-time hybrid program, combining online and on-site learning

The program consists of 56 credits and is expected to be completed within 27 months

In each semester (11 weeks), students are required to take two 4-credit courses

The on-site classes are concentrated on 1 weekend (2 days) per semester

In the 4th and 8th semesters after enrollment, there is a mandatory annual break during which students are permitted to engage in curriculum practical training (CPT) still
**CPT is an integral part of the MBA-IT program and is mandatory for all students. Starting from the first day of the program, students are authorized to engage in CPT throughout the entire 27-month duration of the program, without gaps or interruptions.

| Program Courses
The MBA-IT aims to provide students with a comprehensive understanding of business disciplines, including operations, marketing, finance, and accounting.
The program will develop students' decision-making and leadership abilities, preparing them for roles such as CTOs, computer information systems managers, senior project managers, and IT directors.
Core Courses
MBA 301 Financial Accounting

MBA 303 Managerial Accounting for Decision-Making

MBA 305 Marketing Management

MBA 306 Macroeconomics: Business Conditions

MBA 307 Microeconomics: Decision-Making

MBA 320 Organizational Behavior

MBA 345 Operations and Supply Chain Management

MBA 370 Corporate Financial Management

MBA 385 Strategic Management Capstone

MBA 395 International Management
IT Track Course
MBA 321 Data Analysis for Decision-Making

MBA 392 CPT Internship

MBA 393 Networking in Business Environments

MBA 394 Cloud Computing
** Click Here for the detailed course description.

| Onsite Frequency
Humphreys University's courses are Hybrid, and require onsite attendance 1 weekend (2 days) per semester.
| Tuition and Scholarship

The tuition fee for each semester is $3,000

Does not require any additional CPT credit fee

The tuition fee must be paid in full before the start of the semester.

The total tuition fee for the program is $21,000
| Scholarships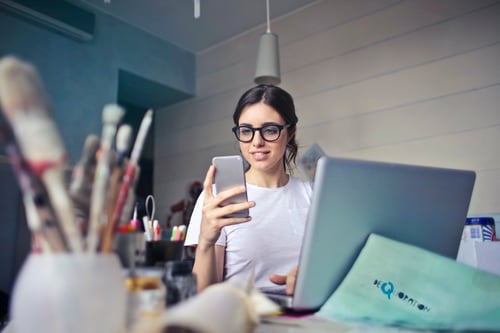 🔥Special Scholarship Only for Students Who Apply via CPTDog:
Apply through CPTDog / GoElite and get a $100 Amazon gift card (when you enroll)
Easily apply

Special offer

No GPA, document requirement

Students are still eligible to apply for other scholarships
* GoElite MUST be mentioned in the student's original application form, or a FERPA form for GoElite must be submitted before acceptance is issued in order to qualify for the scholarship and receive referral credit.

| Academic Calendar
| Quarter | Application Deadliine | Virtual Orientation | Start Date | Onsite Sessions |
| --- | --- | --- | --- | --- |
| Spring 2023 | 3/20/23 | 3/30/23 | 4/3/23 | 4/15 - 4/16 |
| Summer 2023 | 6/20/23 | 6/29/23 | 7/3/23 | 7/8 - 7/9 |
| Fall 2023 | 9/20/23 | | 10/2/23 | |
*If you already have a valid U.S. visa, the application deadline is 2 weeks prior to the official semester start date. Otherwise, the application deadline is 8 weeks prior to the official semester start date.
*If you miss the application deadline, don't worry, contact us, CPTDog could work with School Admissions to expedite admission decisions within an average of 3 days.
| Application Guide
◎ Requirements
Undergraduate GPA greater than 2.75

Meet proof of English proficiency

No Application Fee ($100 Amazon gift card is available if you apply thru CPTDog)
** The school will close enrollment early if the class size reaches maximum capacity. It is recommended that you contact your CPTDog advisors before applying to ensure that you can be enrolled on time.
◎ How to apply
Submit here to acquire the latest Application Admission form

Enter:

Name, email address, Humphreys University, Stockton campus, and MBA-IT program

Enter Goelite Inc. in the Agent field to get a $100 application incentive

Within 24 hours of successful submission, a Humphreys University admissions officer will send an email with the latest program information and application process.

After receiving an email from the school's admissions officer, follow the email instructions to upload your personal application materials, including:

Online application form

Degree certificates and transcripts

All college transcripts, even if a degree was not earned (minimum requirement GPA of 2.75)

Non-U.S. university degrees must be certified by ECE, WES, Educational Perspectives, or any NACES-certified transcript evaluation company

Proof of English proficiency (if only have Non-U.S. degrees)

TOEFL 80 and above, with a score of no less than 18 in each subject

IELTS 6.0 and above

Duolingo score of 105 or higher, the Production sub-score minimum 100

Passport-related documents

Upload the photo and address page of the passport

Students in the US must upload a copy of their visa, current I-20, and most recent I-94 document.

Bank Statement: $26,000
** Usually, students will receive the acceptance result within 10 business days after the application is completed
** For all urgent request — CPTDog work directly with school admissions for expedited application, contact us for detail

Apply for Humphreys University Today!
You will get a Humphreys University Graduate Admission Office's step-by-step application guide.
Apply now and have your admission result as soon as One Week!