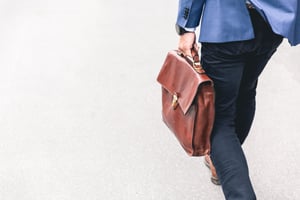 H1B Lay-off
60 Days Rule /How to Legally continue to stay and work?
Laid Off H-1B Employee - H1B withdrawal process
When your H1B employment ends, your H1B is immediately out of status.
To accomplish the withdrawal, the employer must merely send a letter to the USCIS Service Center that issued the H-1B approval notice, note that the employee was terminated, and ask that USCIS withdraw the petition, this protects the employer and also notify the USCIS that the employee is out of status, A new H-1B employer's petition will not be subject to the H-1B cap. Employees with the H1B need to seek another employer that sponsors H1B in order to maintain their H1B status.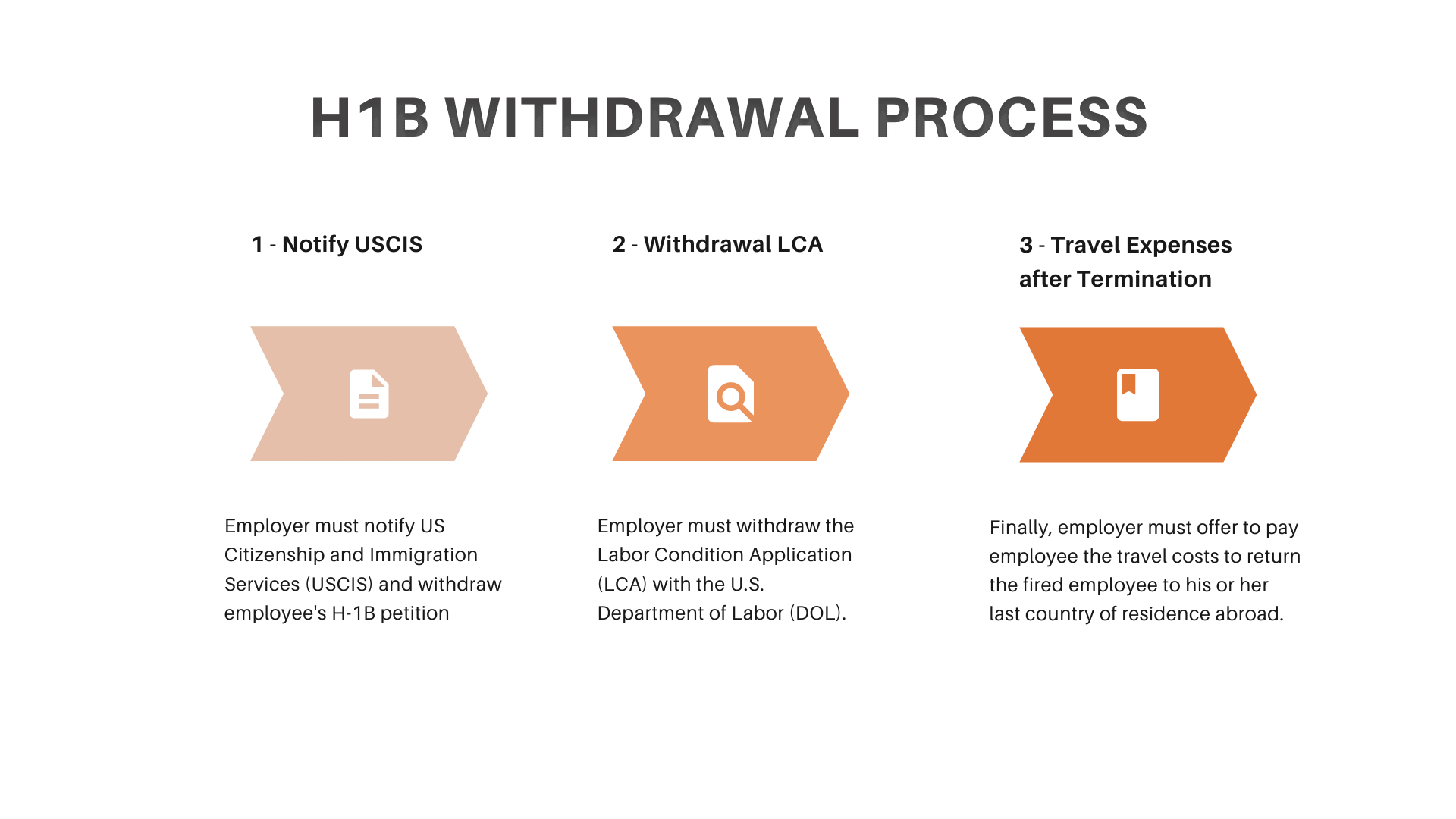 60 Days Rules
"[a]n individual may benefit from the 60-day grace period multiple times during his or her total time in the United States; however, this grace period may only apply one time per authorized nonimmigrant validity period."
Employees that are laid off have 60 days to seek for another H1B sponsor employers, H-1B Portability Provisions of INA § 214(n), AC21 § 105 provide that should a new H-1B employer be found within I-94 validity the new employer may file an H-1B change of employer petition on your behalf. The H-1B beneficiary with a change of employer petition filed within their I-94 validity may begin employment with a new employer upon USCIS receipt of the new employer's H-1B change of employer petition.
USCIS will censor and approve the new employer's petition to decide whether to extend your stay in the US or require you to leave the country. The I-140 Final Rule memorialized USCIS practice to approve H-1B change of employer petitions AND the extension of H-1B stay in the US for petitions filed within 60 days of the last paystub. Therefore, keep all your paystubs in record as the paystub is evidence of your visa status.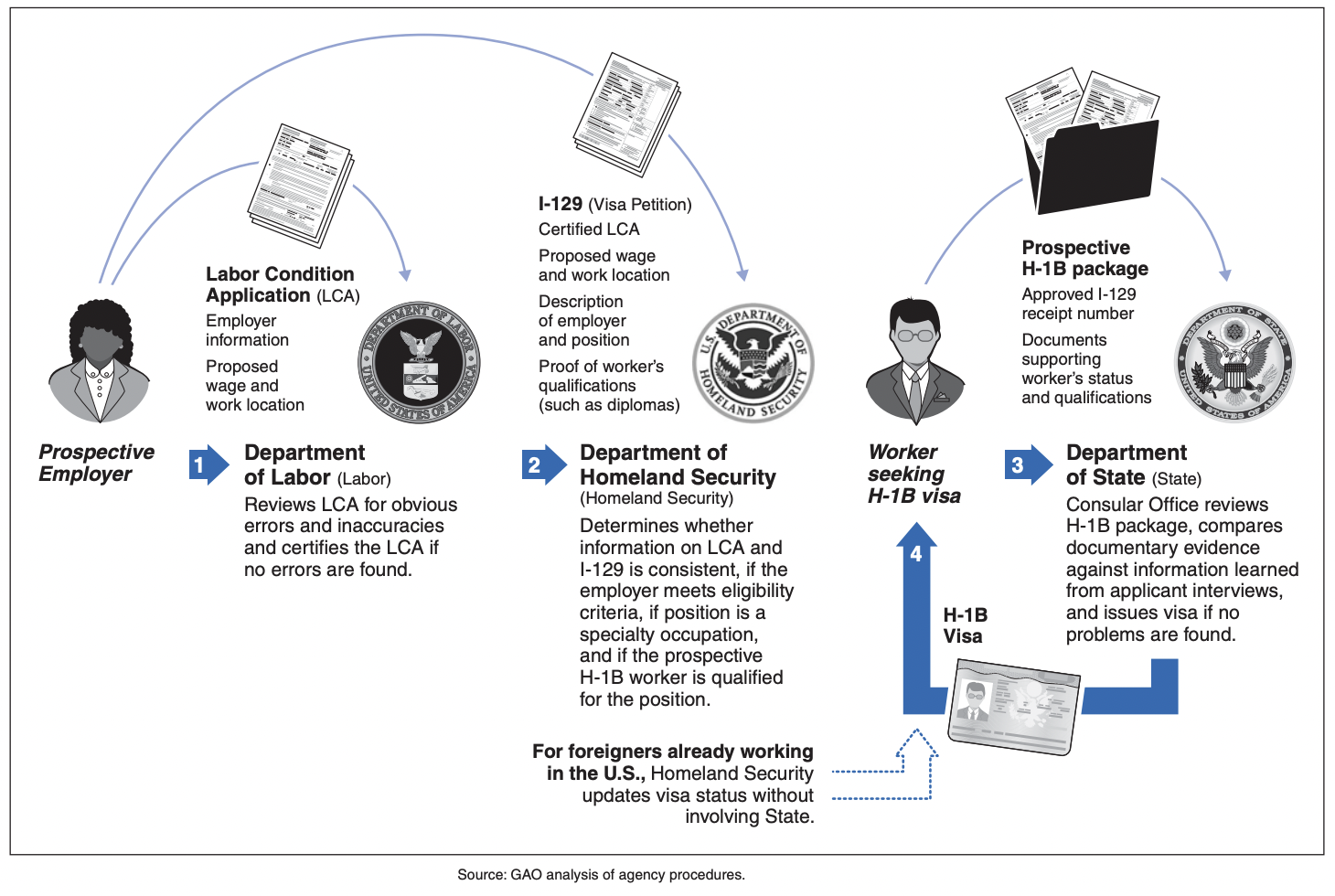 What is the next step if got laid off as a H1B visa holder?
An international student who was laid off last year, I would like to share my personal experience of getting layoffs or being affected by layoff and hope it can help.
1. Negotiate for extra time
According to the 60 days rule, employees that are laid off only have a 60 days grace period after layoffs.
Negotiate with your company for extra time, asking if the company can extend the termination time for you, even if it is unpaid. You must explain the situation of H1B being laid off to the company's HR, and ask for help: ask the company to extend the termination date to the latest as you can. If you do not find a job and decide to return to your home country, the company will need to pay a reasonable Severance under this situation. (Meta is paying 16 weeks of base pay plus two additional weeks for every year of service, with no cap.)
Time Extension Example
Regarding the extension of time:
Here's an example, assume I am in company A and got laid off on 11/1/2022, company A gave me an extra 30 days of unpaid, then my termination day is 11/30/2022, instead of 11/1 /2022, so me as an employee, have 90 days (60+30) to find a job.
When Uber laid off employees in 2020, they put employees on payroll for an extra month, so they also had 90 days to find a job at that time. Whether it is placed in the payroll or not can actually be. Lawyer has confirmed that the paycheck during the severance package is useless. As for how the company B that gave you the offer calculates the start time of your grace period, it depends on what the lawyer of company B thinks. I have encountered before, the company lawyer only recognizes 11/1 of the day of layoffs.
There are also company lawyers who recognize the 11/30 last day. What I neglected before is that the company needs to write a certificate of employment relationship, this is very important to prove that you have been employed until 11/30; 11/1-11/30 is unpaid leave. Because the general lawyer is to look at paycheck to prove how long you have been with the company, but if there is no paycheck, employment certificate is helpful. I have tried this myself. The company's lawyer only recognized that 11/1 of the layoffs counted the grace period on the day of the layoff, because I didn't think about the employment relationship certificate at the time, and it was also later that I found an external lawyer and provided the layoff document. Of course, there is no guarantee that this employment relationship certificate will be recognized by all corporate lawyers.
2. Please note: H1B file time is also counted in the 60 days rules
The first 60-day grace period is the time required to count the lawyer's file, at least about 2 weeks, including 1 week to file LCA and prepare materials at the same time. It is recommended to stay for at least 2 weeks, the more the better.
I have encountered companies that think that there is only a 1.5-week file, and feel that the time is not enough. I heard it's okay to be a few days later, the lawyer has a code that can be used.
At the same time, check how the immigration department and lawyer of company B who gave you the offer view this matter. Some companies state that one day late is not enough, while some companies are more flexible.
3. Prepare for the next job interview
After being laid off, sort out your mood and quickly prepare for the next job. During the whole process, you don't have time to be emotional but need to be hurry up for the interview practice. It's helpful to reach out for jobs on Linkedin, it is recommended to get a Linkedin premium account at this moment, make your job status to open to work, if you have a friend working on Linkedin, see if they can refer you a free premium account for 6 months.
Also, make sure to filter the H1B sponsor companies in advance since your H1B transfer will require another companies that also sponsor you.
Lastly, you need to be calmed, the most important thing at this moment is to find a job quick
4. Quickly switch to the interview mode, filter the position that support H1B
The overall economy is not the best this year, lots of companies has start laying off employees . There may be more layoffs in the following months, layoffs require you to quickly find the next one and maintain your status. And when there are continuous layoffs, the positions are usually filled quickly, and many of candidates are high skilled worker from large companies, it is very competitive.
At the same time, if you are interested in the position you are already interviewing, remember to follow up with the recruiter about the interviews of other candidates in time. If others candidates are in the last interview stage, then you should hurry up. I have a company that I like a lot, however, the recruiter was very busy, thus I didn't follow up with the recruiter on time and was still working on the interview preparation. When it came to the onsite schedule, the recruiter told me at the last minute that the role was already filled, all of sudden, my hard work went in vain.
I suggest that when you communicate with the recruiter, ask what is the current stage of the candidate, especially the company you like, so that you can arrange the interview progress and prioritize. You can interview with some companies first, I think it is relatively stable to get an offer first. I only interviewed with two companies that I think are easier and more confident to get offers from, and I got 2 offers in one month.
5. Get the offer and make a decision as soon as possible.
It is recommended to continue the interview until the offer is secure, I was faced with a slow decision-making process. The company felt that the file document time was not enough, and the other party rescinded the offer (the company that thought 3/1 was the last day). Therefore, it is possible that it is not safe before entering the job. It is recommended to continue the interview and get several offers, which will be relatively stable. In time, in addition to the situation, there are other offers, so you will not be so panicked.
Secondly, I encountered a super low ball, and I also considered accepting it at the time, but I did not plan to accept other offers later. Think about this yourself, take more offers to avoid low ball.
6. Consult ASAP if there are any visa issues
It's safe to say that Day 1 CPT programs are one of the safest ways to remain your legal status and continue working in the US, proven by thousands of our students.
If you are experiencing any visa issues, or unfortunately got laid off during H-1B or PERM, time's ticking under your grace period. it is better for you to schedule a consultation with professionals.
We've consulted and helped many international students enrolled in CPT programs and are dedicated to helping you legally stay and work in America!
Learn more about Day-1 CPT here, or schedule a Consultation Now.
7. Use Day 1 CPT to maintain your visa status and work full time
Find a Day 1 CPT school so you do not have to worry about exceeding the 60-day grace period.
Wish you all the good luck!!