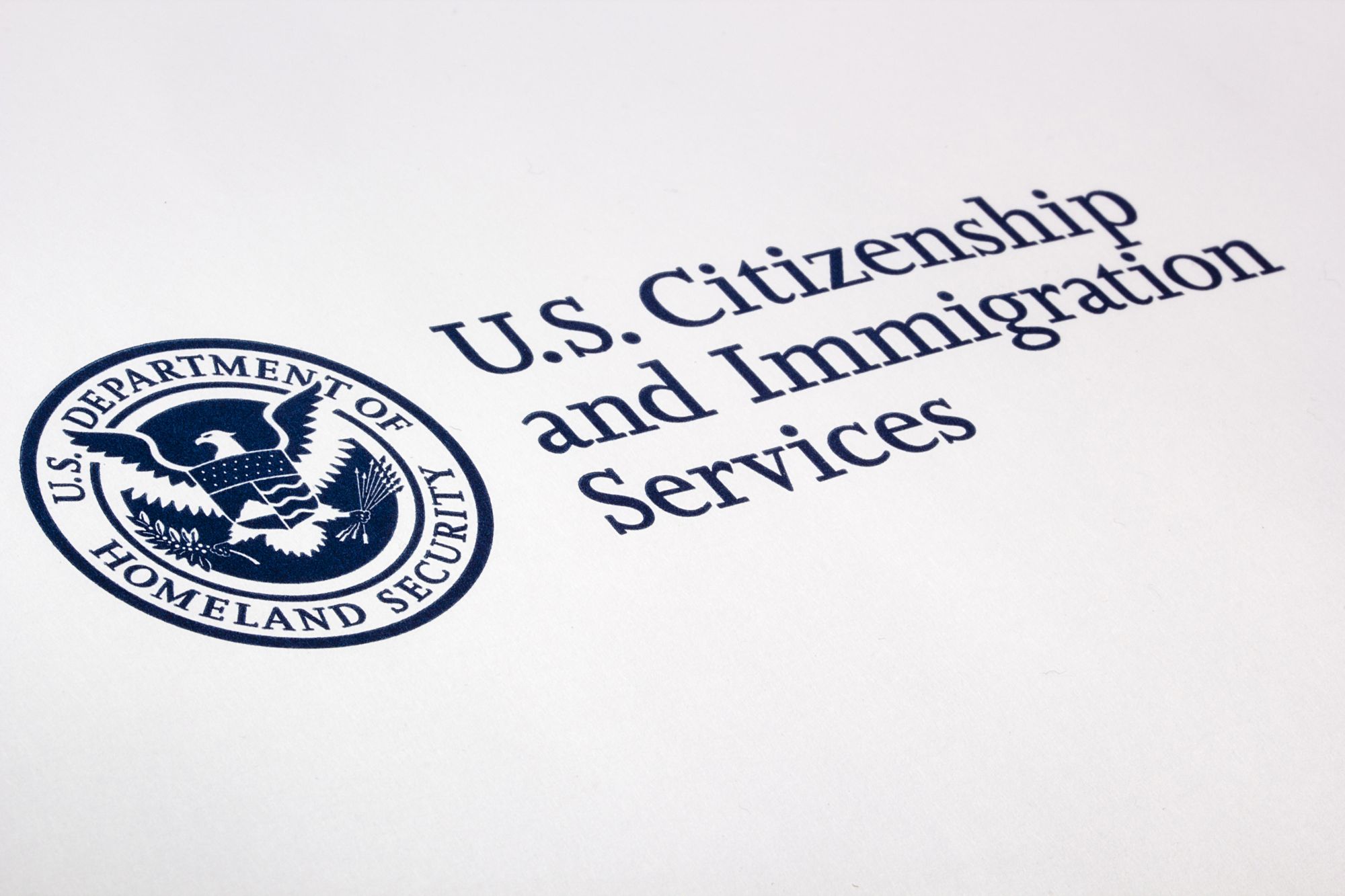 Day 1 CPT - H1B RFE
Guides and Actions
Picture this: You're an international student in the U.S., with the american dream and a to-do list that's longer than a Mumbai traffic jam. You're all set to finish your practical training from day one of your program and ready to move on to your H1B (that's what Day 1 CPT is all about, by the way). But then, bam! You get hit with an H1B RFE (Request for Evidence). It's like the universe's way of saying, "Hold on, buddy, let's make sure everything's in order."
Now, why should you care? Well, this isn't just about a piece of paper. It's about your dreams, your career, and, let's be honest, a whole lot of money you've invested in this American dream. An RFE needs a clear, strong response. Otherwise, you might find yourself on a flight back home, dreams packed away in your luggage. Now you get the big picture of RFE, and let's address the RFE seriously and precisely.
RFE Approval Rate
Let's announce some good news. During the Trump year, the H1B RFE denial rate was sky-high, peaking at 24%. It was like every fourth of the application would hit a wall. But now the situation has taken a turn, the denial rates dropping to a mere 2%. That's the lowest it's ever been compared to previous data.
Moreover, choosing the right Day 1 CPT university could also decrease your chance to a lower rate, so you are looking at a rate of around 0.1%. (I will discuss in later paragraphs)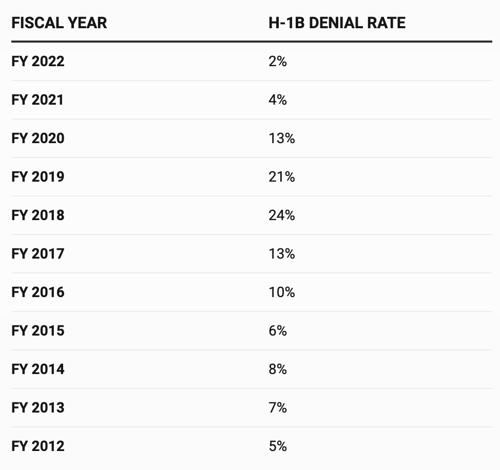 Difference between RFE and NOID
RFE ( Request for Evidence)
When your immigration application status shows as RFE (Request for Evidence), it means that your application is still being considered, but the immigration officer needs more documentation to make a decision. You will have 87 days to provide the additional evidence you need. This is not a denial of your case. It simply means that the officer needs more information to determine whether your application should be approved or denied.
NOID (Notice of Intent to Deny)
It means that your case will have a higher possibility of denial. NOID is the USCIS officer who informs the petitioner that their petition will be denied unless they provide evidence and supporting documents for their case. The officer usually lists the reasons for the possible denial.
What is RFE?
An RFE is issued by the United States Citizenship and Immigration Services (UCSIS) when their eyebrows are raised about your H1B petition either because of your second day 1 CPT master, changed working location, missing document translation, etc. It's like a detective digging deeper into your case. They're not convinced about your petition yet, but they would like to offer you a second chance to prove your point. Think of it as a second round in the ring, where you've got to come back stronger.
When you get hit with RFE, it's time for you to get serious and put your legal hats on. You've got a window between 30-90 days to gather all your evidence and be ready to submit. Also, you have to remember there's no time for half-measures, espically when your case requires multiple pieces of evidence. So be prepared to provide every piece of your requested evidence at once. Failure to do so will risk your chance of a denial.
What are the actions to take?
1. Read the RFE content carefully
Don't just skim through the document and try to understand the evidence they are looking for; you do not want to forget about some evidence and try to do a resubmission. Think of it like reading a rulebook before a big game.
Also, I have uploaded an RFE draft to highlight the important areas that you need to pay attention to.
2. Review the evidence submitted section
You'll find a detailed rundown of all the documents you've already handed to support your application. It's essential to go through these steps. Why? Because USCIS's officers are human too, there's a possibility that they have slipped on your submitted documents, resulting in RFE.
So, it's helpful for you to identify and make notes of any documents you initially submitted that are missing from the list. This is your opportunity to lead a reconsideration from the officer for your H1B RFE case.
3. Review the evidence-lacking section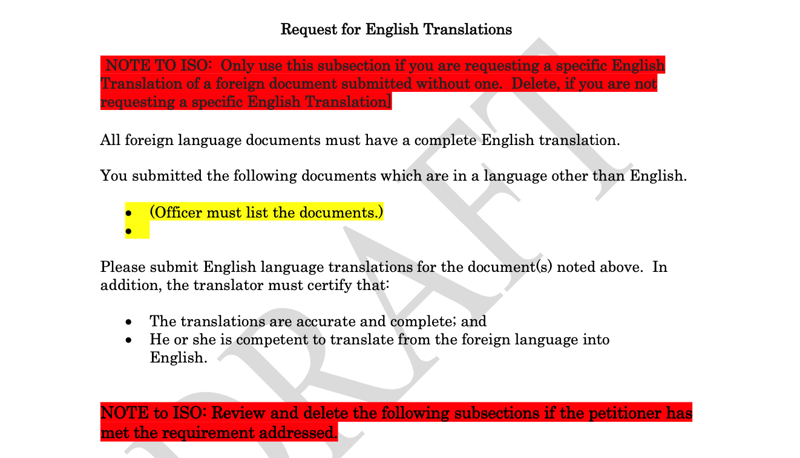 This section is straightforward; you need to upload the documents that the USCIS is looking for, and the USCIS knows that sometimes you can't provide exactly what they're asking for. So, they often allow alternatives. For example, if they're looking for a birth certificate, you can use school records or affidavits to make the alternative for it if you don't have it.
It's like the USCIS's way of saying. "We need this, but if you can't get it, here's the Plan B." So, prepare as much evidence as possible for your alternatives.
4. RFE deadline
When you are dealing with RFE from the USCIS, time isn't just money - it's everything. You've got typically 30 -90 days to act. As we mentioned in the beginning, you only got one chance for your RFE situation.
The bottom line: When you get your RFE, mark the deadline in red on your calendar. Prepare your documents, evidence, whatever they're asking for, and get it in before that date.
*Note: If the submission deadline is expressed in days, it should be counted from the date on the first page of the RFE (the date the RFE was issued). The deadline is not calculated from the day you receive the RFE!
What UCSIC looks for?
In U.S. immigration, the issuance of a Request for Evidence (RFE) by the United States Citizenship and Immigration Services (USCIS) represents a critical point in the application process. Each RFE is unique, reflecting the individualized case examination to be reviewed by the USCIS officer. Also, the list I provide you will be a general list from our experience that the USCIS will likely be able to submit.
Employer - Checklist
Your - Checklist
University - Checklist
Job description letter
Payroll within the last 3 months
Job offer letter
The workhour sheet for fulltime/parttime position
Permanent Account Number (Pan Card)
Passport
Photographs - 2 x 2 inches (51 x 51 mm)
Original copy of your RFE notice
Submit your course syllabi copies for all credited courses towards your degree. If the course delivery method is not mentioned, please provide that information. Remember to keep a record of your syllabi.
Provide proof of your tuition payments for the entire period of your enrollment; you can access your payment history on your university's portal.
Provide a copy of your latest transcripts indicating the number of credit hours you have received.
Signed CPT agreements.
If you have expenses that are sponsored, provide documentation from the sponsor indicating the method of fund transfer.
A Designated School Official (DSO) must provide a written statement confirming your physical attendance in class.
A complete description of your academic program, including credit and classroom requirements, as well as your college's proof of your "full-time study" for your degree level.
If you have CPT, the Office of International Services will provide a support letter to show that it is part of your academic program, along with proof of authorized CPT in SEVIS
How your Day 1 CPT universities can help?
Choosing the right and accredited day 1 CPT universities will lower your RFE chances and give you powerful support by assisting you throughout the process. From the university side, they will provide a complete RFE package, which will include all the necessary documents and evidence mentioned in the list above. For example, Tirne University will have you fill out an online H1B RFE form to get you on the right track.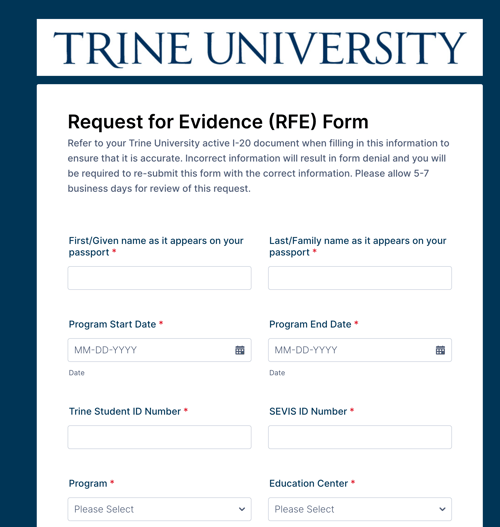 Accredited Day 1 CPT universiteis have more profound experiences when helping students with RFE; trust me, you're not alone. Also, choosing a university that has a reputable name could help with your exposure to RFE.
CPTDog has partnered with our Day 1 CPT university's school board, so in an unfortunate scenario, you get an RFE notice; we can quickly get your request to the university's DSO that works with us. We will make sure that every CPTDog client is at the top priority before or after your enrollment.
Day 1 CPT - H1B RFE Case Example
Applicant X, from India, contacted CPTDog on November 7, 2022, for a status change from J1 to F1 before April 30, 2023. He applied to Westcliff University's MBA on November 8, got accepted on November 18, and submitted his status change application on November 15. After receiving an RFE on January 24, 2023, he responded on February 16 and received approval the next day.
Prioritized the applicant's request through our partnered Day 1 CPT university's DSO.
Help the applicants in collecting all necessary documents and information.
CPTDog's consulting team informed and emailed at the initial incident.
Under CPTDog privacy policies, we cannot reveal the client's true identity. We understand that your privacy is important to you, and we feel the same way.
January 24, 2023: Applicant X receives a Request for Evidence (RFE).
February 16, 2023: Applicant X submits the required materials for the RFE.
February 17, 2023: Applicant X receives an Approval Notice one day after submitting RFE materials.
Case Study
Background:
On November 7, 2022, Applicant X, a student from India, reached out to CPTDog for assistance. He needed to apply to school and change his status from J1 to F1, as his J1 status was set to expire on April 30, 2023. Applicant X submitted his application to Westcliff University MBA school on November 8, 2022, and received his acceptance on November 18, 2022. He then began preparing his application materials for the change of status. On November 15, 2022, he submitted his application for the change of status. During this time, he contacted Westcliff University to delay enrollment until the next semester. On January 24, 2023, Applicant X received a Request for Evidence (RFE) and submitted the RFE materials on February 16. He received an Approval Notice on February 17, just one day later.
CPTDog Advice:
The requested documents are very simple and straightforward in response to the RFE (Request for Additional Documents Notice) that this client received. It is primarily a supplement to provide clear versions of the following documents: passport, visa information, DS2019 form, and i901 fee receipt. Proof of residency within India and in the US is also required. For the proof of address within India, the student provided proof of a property where he/she lives with his/her parents, which is compliant in terms of providing proof of residency. Overall, the documents required by the RFE are relatively simple and are primarily intended to supplement and verify the client's identity and residency information.
Tips
Provide original RFE.
Provide all requested evidence at once.
Respond before your RFE deadline.
Avoid inconsistencies in your evidence information.
Provide a complete certified translation for your evidence in a foreign language.
Contact DSO the same day you receive your RFE notice.
When making photocopies, make sure everything can be read.
RESULTS
CPTDog team has a proven track record of assisting clients who have received H1B Request for Evidence (RFE) notices. We have successfully guided them through the process, addressing any concerns raised in the RFE, and ultimately obtaining their H1B approval notices.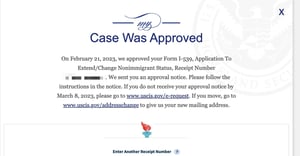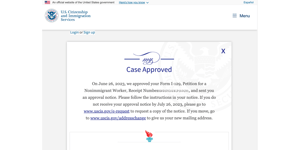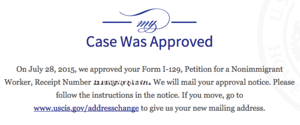 Still, have concerns? Schedule a Meeting With an Expert