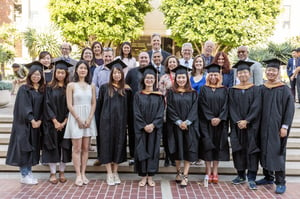 California Institute of Advanced Management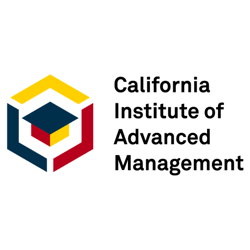 CIAM
Campus Locations:
1000 South Fremont Avenue, Alhambra, CA 91803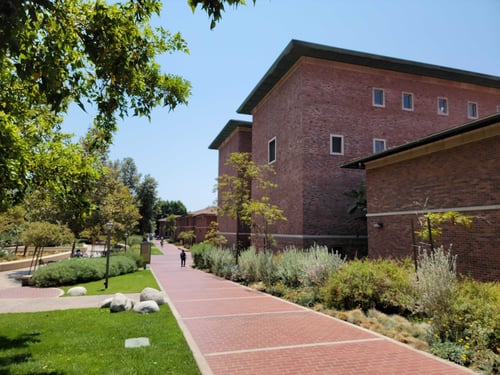 Free School Consultation with CPTDog
A Message to Our Students: CIAM
School Locations:
Alhambra, CA
School Accreditations:
WASC Senior College and University Commission (WSCUC)
Bureau for Private Postsecondary Education (BPPE)
Council for Higher Education Accreditation(CHEA)
Accreditation Council for Business Schools and Programs (ACBSP)
Day 1 CPT Programs:
MBA
MBA - Project Management
MBA - Business Analytics
Estimated Tuition:
$24,000 (Program Total Cost)
$12,000 (Per year)
$2,000 (Per semester)
$667 (Per Month)
———————
Overall Score: ⭐️⭐️⭐️⭐️
Cost Effectiveness: ⭐️⭐️⭐️⭐️
Academic Pressure: ⭐️⭐️
Commute Score: ⭐️⭐️⭐️⭐️⭐️
| About the School
The California Institute of Advanced Management (CIAM) aims to cultivate practical, responsible, and globally-minded leaders based on the management theory of Peter F. Drucker through classroom and online education.
Founded in 2011, CIAM was established by Dr. William A. Cohen, a retired Air Force general (now honorary chairman), and Ms. Jennie Ta (now chairman). The school's main benefactor is philanthropist Mr. Minglo Shao. Mr. Shao has been devoted to supporting education and greatly admires Peter F. Drucker. He established the Peter F. Drucker Academy in China, which teaches Drucker-inspired courses in 32 cities across China and Hong Kong.
Currently, the student-to-faculty ratio at CIAM is 13:1, with an average class size of 13 students.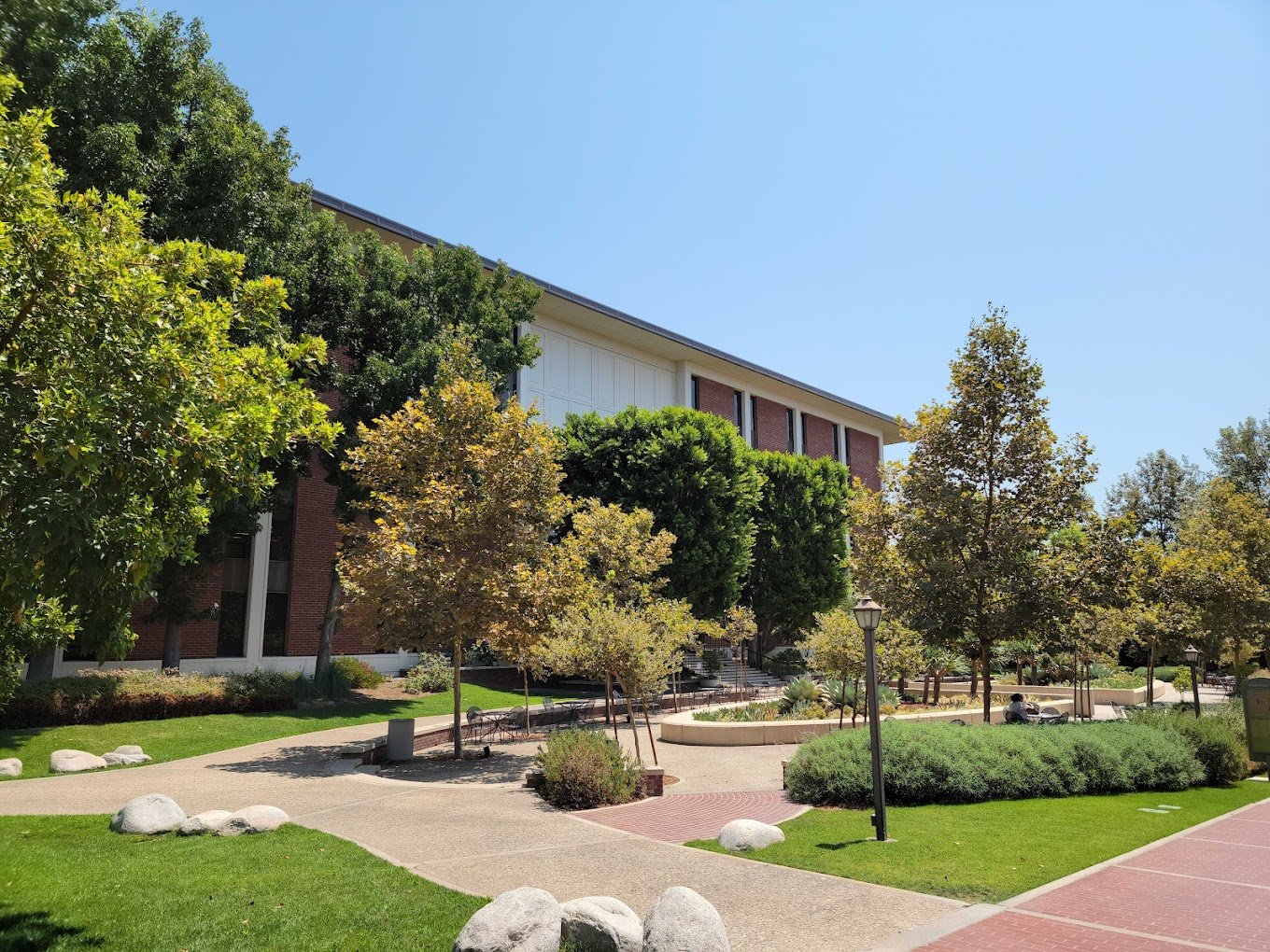 | Accreditations
CIAM has undergone a rigorous evaluation by a national examining committee and highly competent subject matter specialists.
CIAM is accredited by:
WASC Senior College and University Commission (WSCUC)

Bureau for Private Postsecondary Education (BPPE)

Council for Higher Education Accreditation(CHEA)

Accreditation Council for Business Schools and Programs (ACBSP)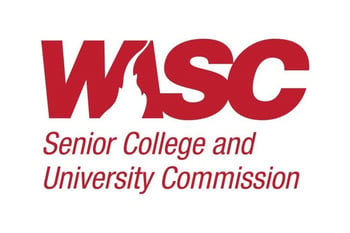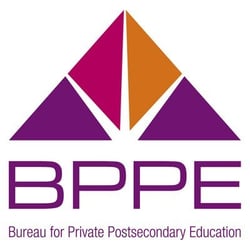 | School Locations
CIAM is located in Alhambra, Los Angeles, California, near the 210 Freeway (Exit Fremont Ave.) and the 10 Freeway (Exit Fremont Ave.), which is only a 30-minute drive from Los Angeles International Airport. It is conveniently located for students who live around Los Angeles.
Alhambra Campus
1000 South Fremont Avenue, Alhambra, CA 91803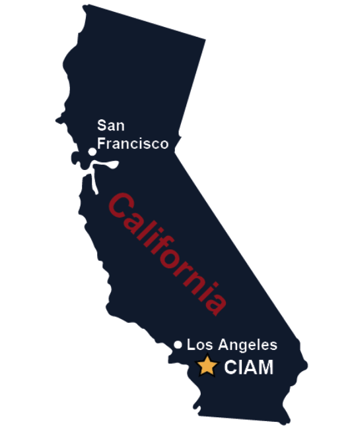 CIAM Location in California
| Employability
Employers often prefer hiring graduates from this University because of its good reputation. In Alhambra, California, students get help from the University's Career Services with easy-to-attend workshops and one-on-one advice. They learn how to make their resumes stand out, practice for interviews, and find the best ways to look for jobs. The University works closely with Alhambra's local businesses, giving students a chance to learn by doing. This way, they're ready to start working as soon as they graduate.
| Pros and Cons
✅ Pros:
Flexible program length - can be completed in 12 months or 24 months for a master's degree.

Flexible teaching style - the school uses a hybrid model, combining online and field courses.

Great location - the school is located in Alhambra, LA, only a 15-minute drive from downtown LA.

Affordable tuition - total program tuition is $24,000 (including textbooks).

Exclusive scholarship opportunities for international students - Academic Scholarship is available to qualified applicants with a GPA above 3.8.

Flexible class schedule - Students are only required to attend one weekend per semester, from noon on Saturday to Sunday afternoon.

Less stressful classes - no exams or tests.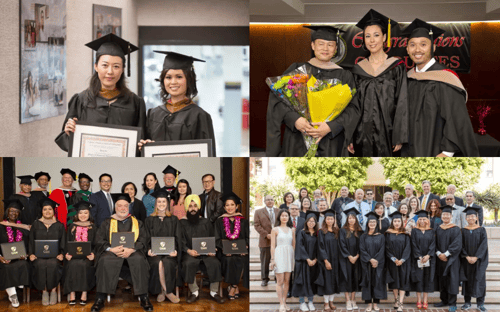 ⚠️ Cons:
Do not include STEM majors.
| Day-1 CPT Programs
Day 1 CPT Policy
CPT course is a required course mandated by the school.
The school requires all students to participate in at least one semester of 0 credit Experiential Internship Course, either INT501 or INT599, or they will not be able to graduate accordingly. Students can also participate in up to 6 semesters (2 years) of internship courses for them to work part-time/full-time while pursuing their degree.
Each semester, students can take one CPT course from the Experiential Internship Course. This course enables students to obtain a permit for CPT work. The CPT course includes:
INT 501 Experiential Internship Course (optional for the first three semesters, up to three times)

This course supports students in applying time management skills and health and stress management techniques to effectively balance work, school, and life for optimal success.

INT 599 Experiential Internship Course (optional for the last three semesters, up to three times)

This course integrates explicitly the work environment into the academic environment of the MBA program.
Students who have been in F1 status for more than one year can apply for Day 1 CPT, which means they can choose INT 501 from the first semester. Otherwise, students must wait until the third semester to apply for CPT (by choosing INT 501).
To apply for CPT, students can use the Employment letter to substitute for the CPT agreement, and the start date cannot be in the past.
*Note: CPT must be renewed every semester.
Part-time CPT and Full-time CPT
CPT internships can be part-time or full-time, and the credit and fee for the course are included in the total tuition.
At the end of each semester, students must submit a 2-3 page internship report to pass the course. The internship report topic is "What did you learn from your job/internship that can be applied to your MBA?"
* It is important to note that if the full-time CPT exceeds 12 months, OPT cannot be used after graduation. However, part-time CPT (working less than 20 hours per week) only affects the application for OPT after graduation.
GPA Requirements for CPT
Students need to apply for CPT every semester, and they need to ensure that their GPA is above 3.0.
If the GPA is below 3.0, the student will receive an Academic Warning and can still apply for CPT.
However, if the overall GPA has not improved to 3.0 for two consecutive semesters, the student may be put on academic probation, and CPT will be canceled at that time.
◎ Day 1 CPT Application
Submit the application form for the INT 500 course.

Submit the Employment Letter.
** Note: CPT applications must be submitted at least one week in advance. It's not guaranteed on the first day of school.
The Employment Letter must include the following information:
Company letterhead, employer name, and address

Job title and job description

Employment start and end dates

Full-time or part-time and number of working hours per week

Supervisor's name, position, and contact information
* For students who are unable to provide an Employment Letter from their company, CIAM will review each case individually. Students can submit alternative materials such as the Employment Verification or Job Description Webpage in place of the Employment Letter (CPT Agreement). For further details, please contact us!
CIAM's graduate programs that offer Day 1 CPT:
Master of Business Administration in Executive Management

This program focuses on real business cases and teaches the most practical business and administrative management skills.

MBA in Executive Management with a Concentration in Project Management

The project management concentration provides students with the necessary skills and knowledge to manage projects in support of organizational strategies and objectives. It immerses students in the details of initiating, planning, executing, monitoring, and closing projects in complex business environments.

MBA in Executive Management with a Concentration in Business Analytics

The business analytics concentration imparts a deep understanding of data management and analysis. Students will receive extensive training in business data analysis, including statistical modeling, machine learning, data storage and management under data-driven strategies, visualization, and decision-making.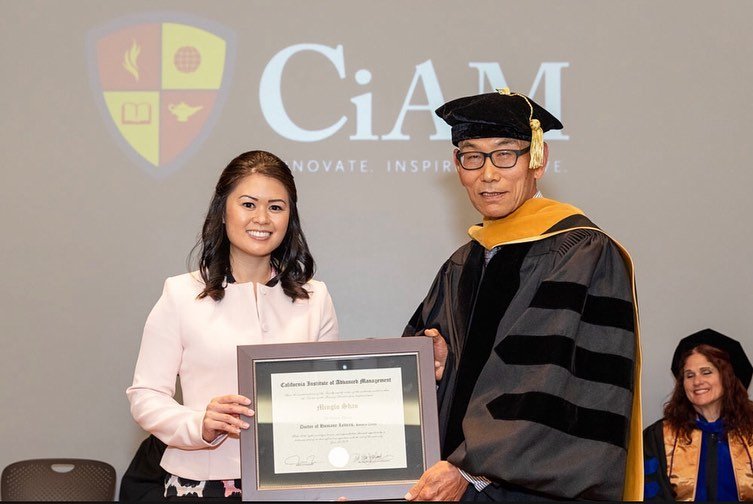 Program Highlights
Student-led consulting projects

CIAM will match students with real client consulting projects, mainly from small businesses and non-profit organizations in the community. Students are unlikely to find solutions to their specific problems in books, so they must "dig deep" to imagine and tailor solutions specifically to the client's particular problem. These applied experiences enhance students' understanding of business ownership and operational realities. Past consulting clients have included Universal Studios, Coca-Cola, and others.
Community service learning projects

Service learning is another high-impact practice established by CIAM, providing students with experiential learning opportunities to do good and make a contribution to the community while earning credit.

Business simulations

CIAM provides experiential learning through computer simulations of real business environments, giving students the opportunity to apply knowledge to real-life scenarios, encouraging students to consider the impact of scenarios and potential decisions, presenting situations that feel real, and inspiring more engaging interactions.
Program Courses
ACC501: Accounting For Decision Making

BUS501: Quantitative Analysis For Decision Making

DRU502: Innovation And Entrepreneurship Based On Drucker's Principles

DRU505: Ethical Leadership

FIN501: Corporate Finance

IS501: Management Of Information Systems

MGT501: Management And Organizational Behavior

MKT501: Marketing Management

OPS501: Operations Management

DRU503: Managing One's Self And One's Career Based On Drucker's Principles (Executive Management Only)

GB501: Global Business Concepts(Executive Management Only)

MGT511: Strategic Management(Executive Management Only)

BA501: Database For Business Analytics (Business Analytics Only)

BA502: Applied Probability And Statistics In Data Analytics (Business Analytics Only)

BA503: Advanced Analytics For Business (Business Analytics Only)

PM501: Project Management Fundamental (Project Management Only)

PM502: Project Management In Practice (Project Management Only)

PM503: Organizational Project Management (Project Management Only)
| Onsite Frequency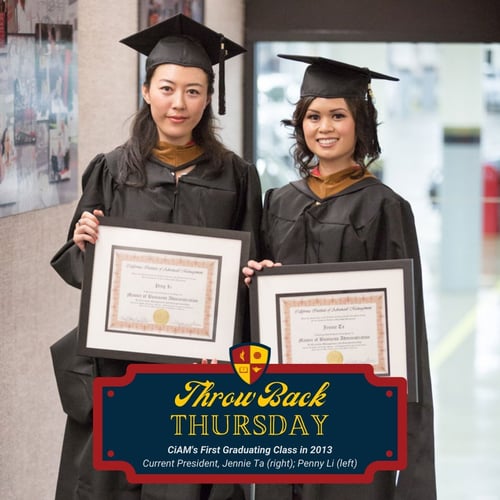 CIAM adopts a hybrid format for its graduate programs, which consist of 36 credits spread over 3 semesters per year. Each semester, students are required to complete 6 credits (2 courses), one online and one onsite. The onsite class schedule is flexible, with students attending 2-3 classes on campus per semester (4 months), which can be either on Saturday afternoon and Sunday evening or Saturday morning and Sunday afternoon. The rest of the courses are offered online.
* International students are required to attend the first onsite class, or else this course will be dropped. If a student misses more than one onsite class, this course will also be dropped.
If a student is unable to attend an onsite class, they must request approval from the professor in advance and are allowed to miss up to 2 onsite classes per semester.
| Tuition and Scholarship
The total cost for the entire MBA program is $24,000, with $12,000 per academic year and $4,000 per semester. The tuition fee includes textbook and CPT fees. (There is no additional credit fee for CPT courses each semester.) The deadline for tuition payment is 5 business days before the start of the semester. Late payment will incur a $50 late fee.
| Scholarships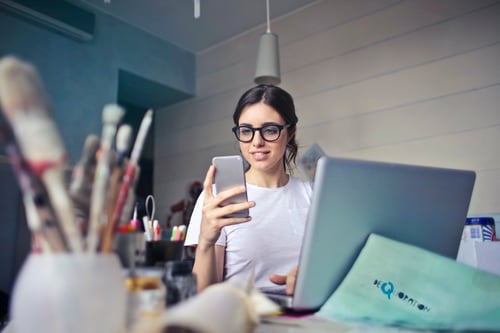 🔥Special Scholarship Only for Students Who Apply via CPTDog:
Apply through CPTDog / GoElite and get a $100 Amazon gift card (when you enroll)
Easily apply

Special offer

No GPA, document requirement

Students are still eligible to apply for other scholarships
* GoElite MUST be mentioned in the student's original application form, or a FERPA form for GoElite must be submitted before acceptance is issued in order to qualify for the scholarship and receive referral credit.
Other Scholarships Include:
President's Scholarship/Women in Leadership Scholarship (available to female students with work experience who must complete a 300-500 word essay)

Management as a Liberal Art Scholarship (available to all students who must complete a 300-500 word essay)

Joseph A. Maciarello First Generation Scholarship (available to first-generation college students who must complete a 300-500 word essay)

Academic Excellence Scholarship (available to students who maintain a GPA of 3.8 or above and must submit a transcript)

Entrepreneurship Scholarship (available to entrepreneurs who must submit relevant proof)

International Scholarship (available to international students who have just arrived in the United States and must submit relevant proof)
| Academic Calendar
| Term | Application Deadline | Start Date | Onsite Attendance Date (8 am - 5 pm) |
| --- | --- | --- | --- |
| Summer 2023 | 3/31/2023 | 4/29/2023 | |
| Summer II 2023 | 6/2/2023 | 6/17/2023 | 7/15 & 7/16 |
| Fall 2023 | 8/4/2023 | 9/2/2023 | 9/16 & 10/21 & 12/2 |
CIAM divides each academic year into three semesters, and students can apply for admission or graduation each semester (i.e., three enrollment windows per year).
*If you miss the application deadline, you don't have to worry; please contact us. CPTDog could work with School Admissions to expedite admission decisions.
| Application Guide
◎ Requirements
Applicants are recommended to have a minimum of one year of work experience
Bachelor's degree and diploma required

Language Requirements (a US institution degree or )

Minimum TOEFL score of 79, IELTS score of 6.5, Duolingo 105
◎ Submit Your Application
Please follow the instruction provided thru email and upload your documentations, including:
Online application form

Official transcripts

Application fee of $75 (CPTDog will waive the application fee for you, contact us)

300–500 word-count Statement of Purpose

The personal statement must answer the following questions.

How will the program help you to achieve your educational goals?

How will the program help you to achieve your career goals?

How will the program's curriculum help to achieve these goals?

How will the program help you in your goals to contribute to the community?

What do you hope to gain from the MBA program?

Resume

Copy of Passport

Financial Statement (minimum of $30,618 or equivalent in other currency, can be issued by a relative, friend, or employer. Note: paystub is not a substitute for a certificate of deposit)
** It takes 2 to 3 weeks to process your application once it's submitted, you could contact us for expedited processing as well.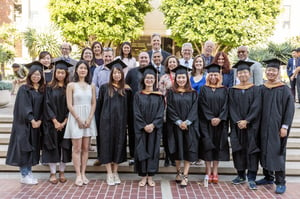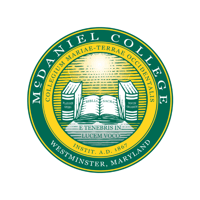 Apply for CIAM Today!
You will get a CIAM Graduate Admission Office's step-by-step application guide.
Apply now and have your admission result as soon as One Week with $1000 scholarships!