Introduction to CPT application:
Many international students want to pursue their master's or doctoral degrees in the US. However, they often face challenges related to visas, admissions, tuition fees, budgeting, and a valid work permit. Day 1 CPT provides a solution that allows students to participate in certain master's or doctoral programs in the US, with the added advantage of working from the very first day of their program.

This way, you can start working right from the first day of your program and take advantage of the opportunity. Your Day 1 CPT universities will authorize your CPT work permit, which typically takes one to two weeks and includes a hybrid schedule, reduced tuition fees, and the eligibility to join the H1b lottery.

However, the CPT application process may be complicated for many students. Although countless tutorials are available, students often need help locating helpful information about the process. However, CPT is vital to maintaining student status and ensuring their capacity to work. Therefore, the following blog post outlines an overall guidance to CPT to allow students to get CPT without wasting their time and effort.

Ps. This tutorial will use West Cliff University as an example.

CPT Application Process
1. The Purpose of CPT
What is the purpose of CPT?
The primary purpose of CPT is to allow international students to apply the theories and principles they learn in the classroom to a real-world work environment. It is intended to be an integral part of the established curriculum of your study program.
Curricular Practical Training (CPT) is an optional training program that allows F-1 students to gain practical experience in their field of study. CPT can be paid or unpaid, and it can be part-time (up to 20 hours per week) or full-time (more than 20 hours per week).
What are the benefits of CPT?
Academic growth - CPT offers the opportunity to apply academic knowledge to practical scenarios, enhancing understanding and retention of the course material.
Professional development - CPT provides real-world experience, thus helping you build a professional network and develop essential skills such as teamwork, communication, and problem-solving. It also allows international students to understand the US work culture and business etiquette, facilitating their integration into the professional environment.
Career advancement - Having CPT experience can make students more marketable to future employers in the US and their home country.

Financial support - Supporting yourself financially in the US can be difficult. On top of school fees, you'll need to spend money on transportation, food, and accommodations. Luckily, the CPT program allows you to earn money legally, lessening your financial burdens as you work your way to a college degree.
2. Confirm CPT requirements
Before applying for CPT (Curricular Practical Training), it is essential to check with your university's DSO (Designated School Official) office to ensure you understand the academic requirements and eligibility criteria. This crucial step directly affects your ability to work in the US and maintain your status. Therefore, it is essential to review the following information carefully. For this example, l will use WestCliff University as an example.
Academic Eligibility
Westcliff University requires a student to hold a valid F1 status and requires students to obtain a minimum of 3.00+ GPA to be eligible for CPT. In addition, Your F-1 visa status requires enrollment in a US college, university, conservatory, or seminary certified by ICE in its Student and Exchange Visitor Program.
The CPT course units and class code
It's essential to confirm whether you can use the self-enroll system for your CPT program or need your advisor's permission to get your CPT course code. Sometimes, students could miss the final opportunities to enroll in the class. Moreover, it's worth mentioning that different universities have different credit policies for your CPT courses. The course unit can be one or half depending on the university, and sometimes it may not count towards any credits. However, suppose you see a university offering three units per CPT class. In that case, typically, it's not a Day 1 CPT university.
University list that includes 0 CPT units:
New England College

Campbellsville University

Dallas Baptist University

Sullivan university

Ottawa University

National Louis University
CPT renew frequency
It's important to monitor your CPT renewal time when applying for it. Determining whether it's renewed every month, semester, or year is necessary. Failing to renew your CPT on time can lead to being accused of illegal working status, which could affect your immigration status in the future. As a result, it's critical to establish a calendar for your CPT renewal time. If you apply for CPT through CPTdog, we'll send you an automated email to remind you when it's time to renew your CPT, ensuring you don't miss it.
Major and CPT alignment
The core piece for your CPT to work functionally is to ensure your major and work title have to be the same or at least share a mutual background. For example, If you have a job title of a computer scientist, there may be more suitable majors for you than engineering management. Also, do not study the same major at the same educational level; for example, if you already have a US degree in MSCS, try to pursue a relatable major, like MSIT; failure to do so may arouse questions and concerns for your future H1B progress. Also, at CPTdog, we help screen your background for your future through our free consultation to prevent any potential problems with your future immigration steps.
Pro tip: After you have a personalized consultation with CPTdog, you can ask the company to make reasonable changes to your offer letter based on your major choice.
3. Different types of CPT
Full-time CPT
Full-time CPT involves working around 20-40 hours per week at the time of application.
Part-time CPT
Part-time CPT involves working up to 20 hours per week.
* Note: It's worth noting that you will lose your eligibility to use OPT if you have more than 12 months or more of full-time CPT. However, no matter how often you use Part-time CPT for work, it will not affect your OPT application.
Working over 20 hours per week using part-time CPT will affect your OPT eligibility as it will be considered as using a full-time CPT.
To ensure that you maintain your OPT eligibility, it is essential that you use Part-time CPT and strictly limit your work hours to a maximum of 20 hours per week. If you decide to use Full-time CPT, it is important that you do not go beyond 364 days of usage.
If you need to update your employment information, you must request a new I-20 approval through the CPT online self-service application.

Here are some examples from Westcliff University:
5. Apply on the online form
Nowadays, many universities accept online applications for CPT. The process involves filling out an online form and submitting your documents and details. I will provide a graph demonstrating the process to clarify potential problems.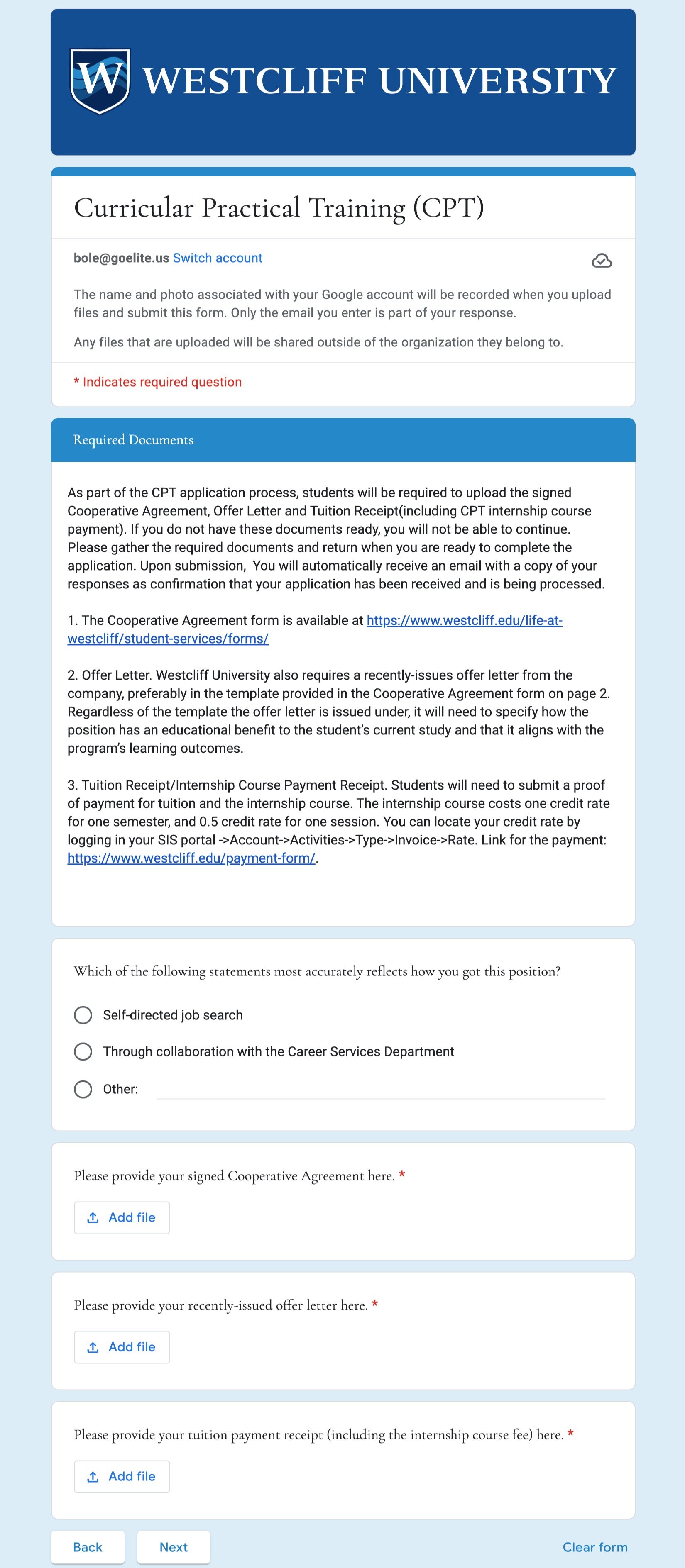 6. Typical duration to get your I-20(CPT)
First-time CPT and Renew CPT passing time may be different; generally, CPT renewal will be faster. These expressions may differ across schools; Initial CPT, New CPT, and First-time CPT refer to the first time, while CPT Renew and CPT Extension refer to extending CPT time. Also, Depending on the universities, the CPT application process may vary from 1-2 weeks; for CPTdog, since we are the official partner with the day 1 CPT universities, we can expedite the process within 3 business days.
7. Tips for your CPT application
Find your school
Not all colleges and universities in the USA offer the CPT program for students. You must find a school that not only requires CPT but is also accredited and has an excellent reputation as an educational institution.
Luckily, several CPT schools are located in various states across the country. This includes institutions such as Westcliff University in California, Monroe College in New York, and Trine University in Arizona.
You may also choose a school based on the degree program you wish to enter. The CPT program requires students to obtain a job or internship directly related to their studies. For instance, if you want to earn an MBA, consider finance, marketing, or business administration jobs.
Prepare your requirements
The CPT program is eligible for students with a valid F-1 visa status. Your chosen school may have specific application requirements, so prepare the necessary documents immediately.
The typical CPT application process also requires applicants to submit an offer letter, CPT application form, and CPT agreement signed by the school and employer.
Apply early
Your application can take a few weeks to process. Therefore, submitting your requirements early is always best, ensuring you don't run into unnecessary delays and risk losing your eligibility.
Proof Check your I-20
Double-check the accuracy of your employer's details on the second page of the I-20 form.
8. How to Find Work Opportunities under CPT?
Research
To start your job search in your field of study, you can browse through various job websites like Handshake, LinkedIn, and Indeed for CPT job opportunities. On Handshake, you can use your school email to browse unique job opportunities for your university. Also, you can filter job postings that accept OPT/CPT applicants and search for jobs near your location on Handshake, making it easier to attend interviews in person or virtually.
Networking
Finding a job while on CPT is difficult, but there are several ways to increase your chances. One way is to reach out to your university's career center, attend career fairs, and use professional networking sites like LinkedIn. Another option is to utilize the consulting services provided by your university's advisors, as they may have more referral opportunities to help you find CPT jobs more smoothly.
Top Companies Accept CPT Jobs
At CPTdog, we understand the challenges faced by our clients and students when it comes to selecting the right CPT job. Therefore, to conquer this problem, we have developed a database of top companies in the US that offer CPT jobs. The database is updated monthly, ensuring our clients and students have access to the latest information on available CPT job opportunities.
Schools can initiate the CPT process without requiring immediate approval from USCIS. In contrast, students need to submit their own application to USCIS when applying for Optional Practical Training (OPT) post-graduation.


The length of time you can use CPT depends on your program format. Typically, master's programs last around 2 years, and Ph.D. programs last around 3 years.; theoretically, you can keep applying for different CPT programs to use it as long as you are still qualified as an F1 student.


It is possible to enter the country with a valid F-1 visa if the student's SEVIS and I-20 are in place; you may also prepare the potential interview questions for your re-entry.
For example:
"What are the courses?"

"When do you graduate?"
"Who are your professors?"
"Where is your school and why do you live far away from it?"
"Why do you have this CPT program?"
"What do you probably do in this job?"
"Why do you have this job?"
After being selected in the H1B pool, you may receive a Request for Evidence (RFE) from USCIS. They may question your honesty as a student or ask why you are pursuing the same degree again. Established universities like Day 1 CPT will provide you with the necessary supporting documents to address this issue and help you provide evidence.


There are no regulations from the Immigration Bureau that limit the number of hours a CPT (Curricular Practical Training) can work in a week. However, if the school has explicit rules, such as a prohibition on working more than 40 hours, that should be followed. Nevertheless, working only a few hours per week is advised because using a CPT means that you are still a student, and you need to focus on your studies to maintain your student status.


Conclusion
Remember that the regulations governing CPT and other types of off-campus employment for F-1 students can change at any time, and they can also be subject to different interpretations by different authorities. Always consult an international educational consultant before applying for CPT to understand the most current rules and their implications.
CPTDog can help you get a CPT work permit. Our admission advisors possess up-to-date information about the latest CPT regulations. We are dedicated to assisting international students in resolving various study-abroad concerns.
So, as you step into the CPT journey, remember it's not just about getting a work permit but about enriching your education with real-world experience, networking, and setting the stage for your future. With resources like CPTDog by your side, you're not alone on this journey; help and guidance are always within reach to make the process easier and beneficial.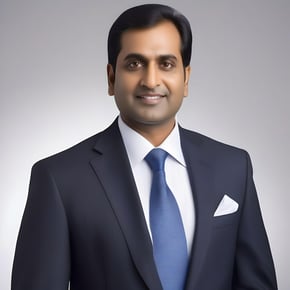 Chetan
Chetan Krishnan Educational Consultant & Senior Content Strategist at CPTdog.com Chetan Krishnan is a beacon of knowledge and guidance in the intricate world of U.S. educational consultancy at CPTdog.com. With an extensive background in international education and visa consultancy, Chetan has been instrumental in crafting the narratives that empower and inform future scholars and professionals from around the globe. His academic journey, enriched with a Master's degree in International Education, combined with years of hands-on experience, has positioned him as an expert in navigating the complexities of the U.S. immigration system and academic institutions. Chetan's articles and advice columns are not only a testament to his expertise but also reflect his genuine passion for fostering cross-cultural academic exchanges. At CPTdog.com, Chetan's role transcends beyond mere consultancy. He is the architect of success stories, meticulously designing each article and guide to ensure that students and professionals alike are equipped with the most current and strategic information to realize their American dream. When he's not demystifying the nuances of Day 1 CPT programs or aligning students with their ideal universities, Chetan is actively involved in seminars and workshops, sharing his insights and helping individuals to bridge the gap between ambition and reality. Chetan's commitment to excellence is mirrored in the success of CPTdog.com's clients, and his dedication to their journey is unwavering. His vision is clear – to illuminate the path for those seeking to expand their horizons through education in the United States. Join Chetan at CPTdog.com as he continues to guide, inspire, and educate the leaders of tomorrow.